Homemade rolls are one of life's greatest pleasures! Let me walk you through the steps of how to make delicious rolls from the how to make the dough to different ways to shape the dough.
Potato Rolls
2 packages of yeast ( 4 and 1/2 teaspoons)
1/2 cup warm water
1 cup mashed potatoes (you can use instant potatoes)
2 cups milk, scalded
8 cups flour
1/2 cup shortening
3 eggs
2/3 cup sugar
2 teaspoons salt
Soften the yeast in the 1/2 cup of warm water. In a bowl, mix together softened yeast, potatoes, milk, shortening, eggs, sugar, salt and 4 cups of the flour. Mix together with a mixmaster until smooth. Add the remaining flour 1 cup at a time and knead well until mixed. You may need to add a little more flour to make a dough that you can handle, but not more than 1/2 a cup more. Turn the dough into a greased bowl and let it raise until double. Divide the dough into thirds and roll out in a circle onto a floured board. Brush with melted butter and cut into 16th. Roll them up as you would croissants. Place rolls on a greased pan and let raise for about 1 hour or until doubled in size. Bake at 350 for about 15-20 minutes.
Makes 48 rolls
1. So, the first thing I always start with is the mashed potatoes. I have used both mashed potatoes from scratch and instant potatoes in this recipe and I honestly cannot tell a difference in taste. What I'm getting at is--Use Instant! I even use the microwave directions, so it only takes me about 5 minutes.
2. The next thing I do, is pour the warm water into my mixer, along with the yeast, and let it sit for 5 minutes or so to activate. (the water should be foamy and bubbly looking--if it's not, you may need to
proof your yeast
to make sure it's still good.)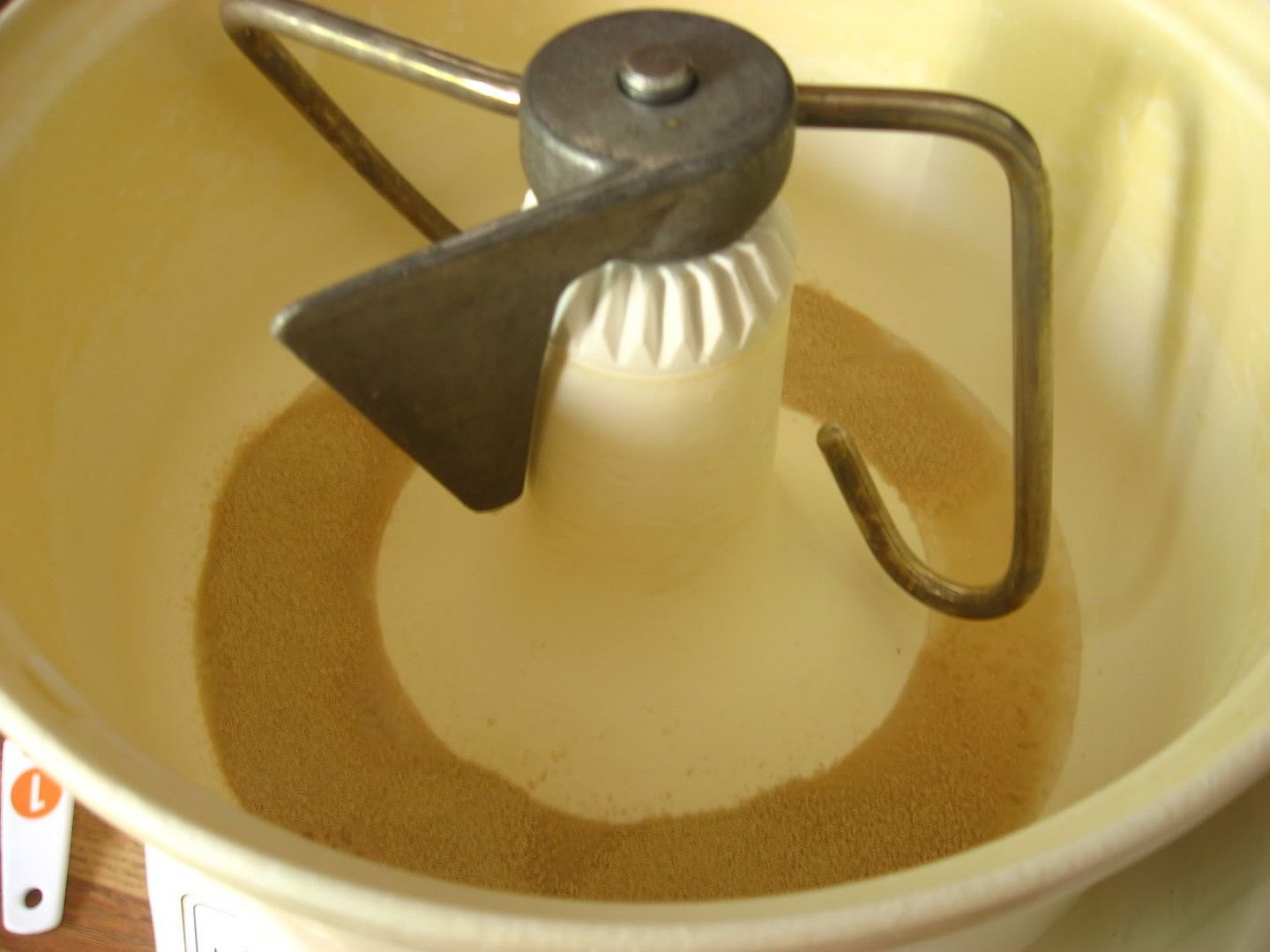 3. While the yeast is activating, I pour the milk in to a microwaveable container and microwave it for about 2-3 minutes to scald it. I was taught that you know the milk is scalded when tiny bubbles form around the outside of the pan or dish, so I cook it until I see that.
4. Now add the potatoes, scalded milk, shortening, sugar, salt, eggs, and 4 cups of the flour and mix until smooth. (I figure you don't need pictures of that...pretty self explanatory.)
5. Next add the rest of the flour. I usually add about 1/4 to 1/2 cup more flour to make the dough workable. You still want the dough to be a little sticky. Stickier dough makes fluffier rolls--trust me! Keep in mind that you will be rolling these out on a floured board, which will add even more flour. The dough will stick to your hands a little, but not much.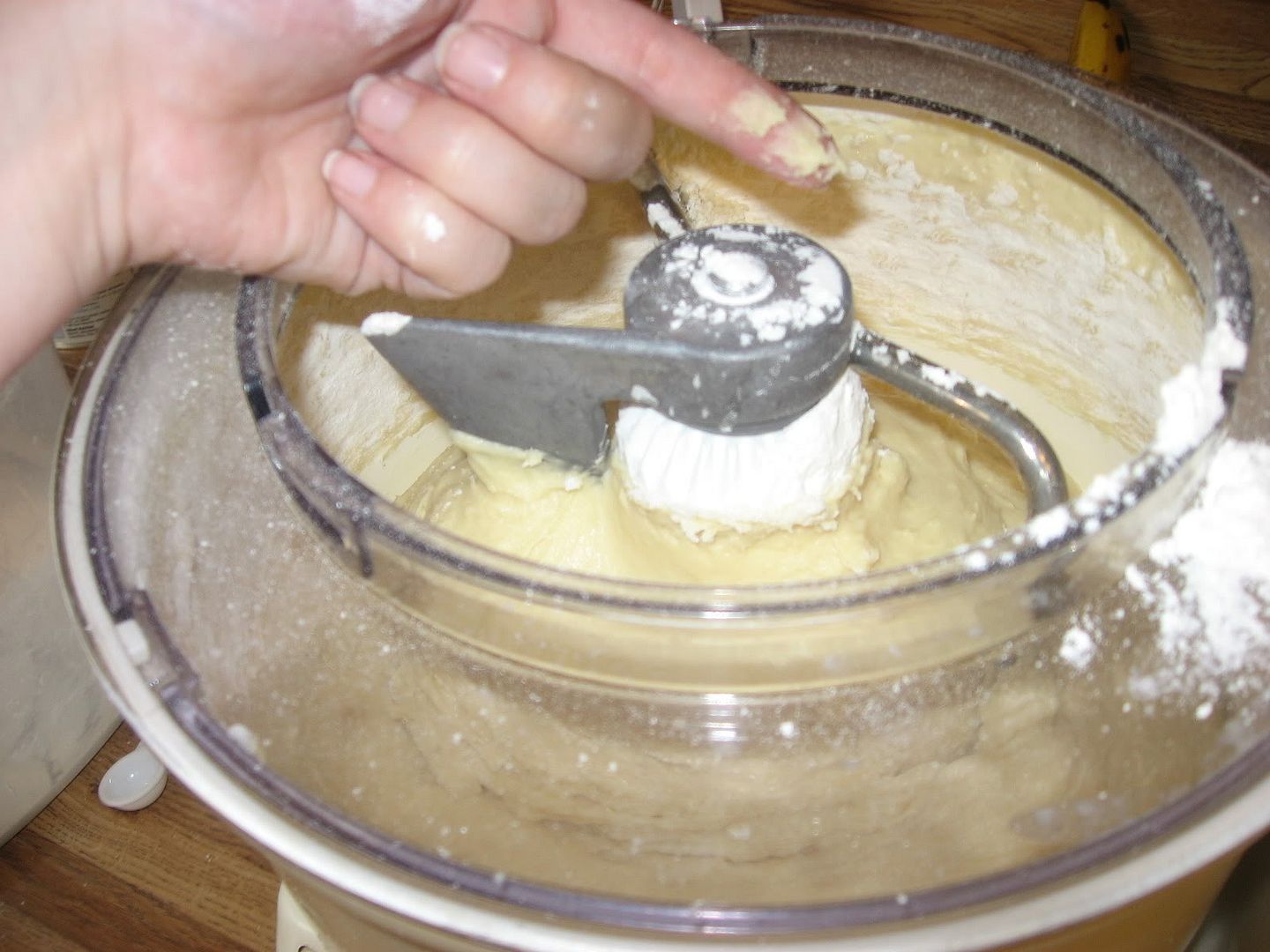 6. Take a large bowl and spray it with non-stick cooking spray. Put the dough in the bowl and let it rise until double in size. I made the dough before church, which is 3 hours, and I knew that the dough would be long done before I got home. I put the bowl in the fridge, which will slow the rising down. When I got home, it was perfect and ready to be rolled out!
7. Now for my favorite part, shaping the rolls! There are so many possibilities. First, flour your surface. Divide your dough in to three large balls. To smooth out the top, I pull the edges of the dough out and under, so that the imperfections are on the bottom.
8. Roll the dough out into a large circle. (and here's the best part!) Melt a stick of butter and pour a third of it onto the dough and spread it around evenly. Then, cut the dough (with a pizza cutter) into 16ths.
** To roll your dough into a "butterhorn" shape: Take the triangle by the short edge and roll it all the way up. This is the easiest way for me. I usually make my rolls this shape.
**To roll your dough into a "rosette" shape: (I still cut the dough into 16ths) Roll the dough into a long rope about 12 inches long. Then, tie it in a loose knot.
Then, tuck the top end of the knot under. Finish by tucking the other end up and into the middle of the knot, creating a rose type shape. Brush with butter.
**To make "clover" shaped rolls: (I still divide it into 16ths) Divide each roll in to 3 balls. Spread the top of the ball out and tuck edges under. Put three balls into a muffin tin. (sorry the pic is so hard to see, but you get the idea.)
9. Let the rolls rise until double (about 1 hour) Cook at 350 degrees. Watch the rolls to see how long they need to cook. My oven cooks them in 12 minutes, but my mother in laws oven takes 20. They should be golden brown. Brush with butter.
(One thing I should add--I have made these for Thanksgiving two years in a row. Both times I made the rolls and shaped them the day before, and then froze them before letting them rise. Then in the morning, I pulled them out of the freezer and let them rise all day while the other dishes were being made. They were ready to bake in a few hours, and were fresh and warm out of the oven for dinner!)
Here are the butterhorn rolls. Perfect!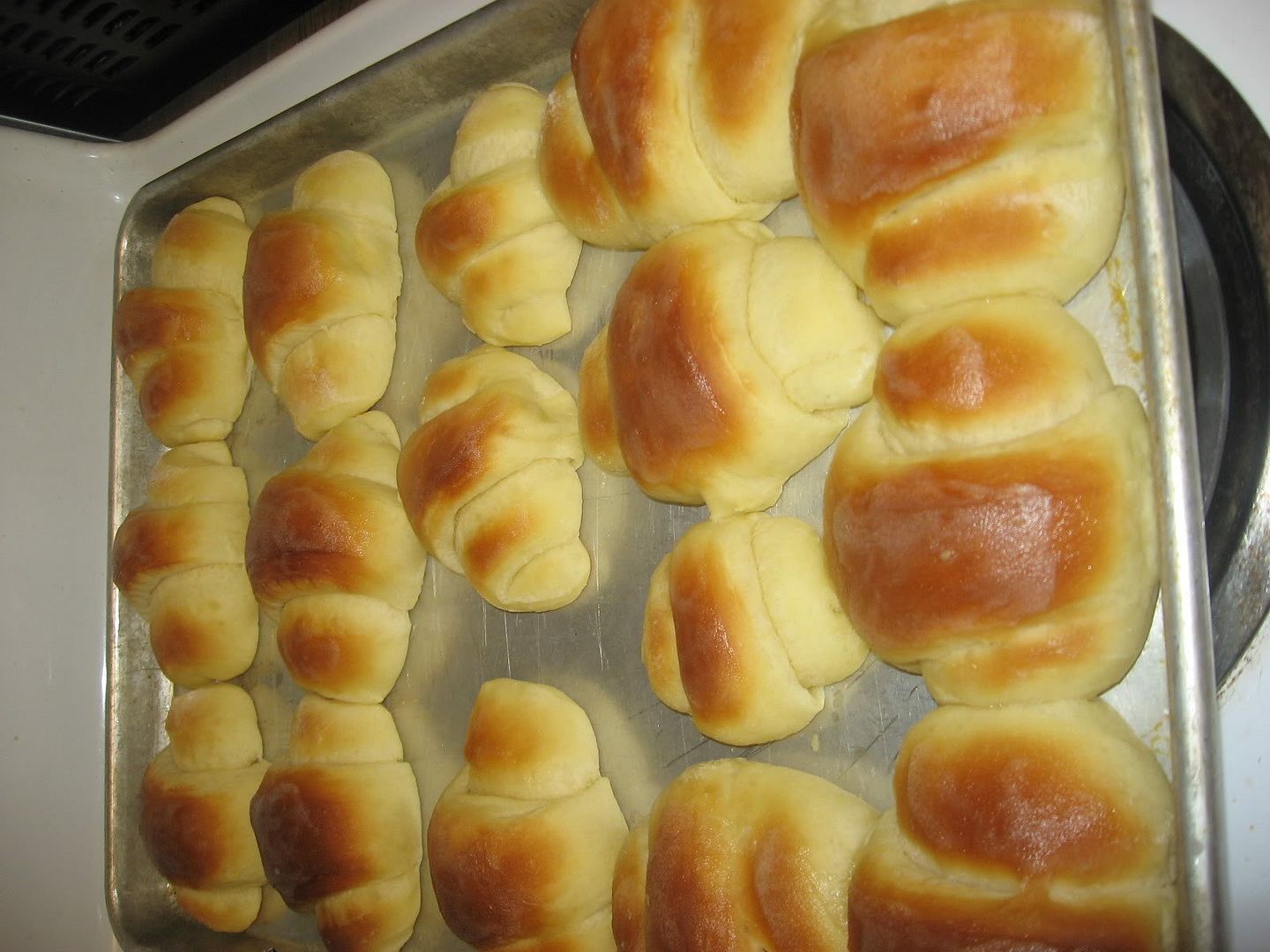 Here are the Rosettes (on the left) and Clovers (on the right)

Every time I make these, I wonder why I don't make them more often. They are so easy! Enjoy them!